2017 GRANT WINNERS ANNOUNCED
We announced the winners of the 2017 Westcare and Glenn Brown Memorial Grants at our Partnership event last week.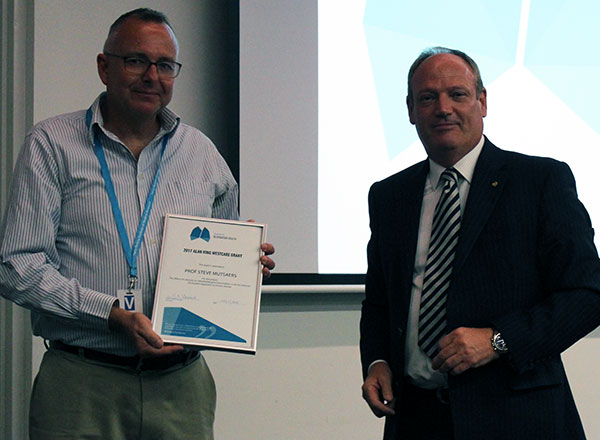 Prof Steve Mutsaers, Institute for Respiratory Health
Research project: The effects of infection on mesothelial gene transcription: a role for immune check point regulation in chronic disease
The Alan King Westcare grant is made possible by the generous donation from Westcare. Since the middle of the previous century, Westcare has been committed to helping those afflicted with tuberculosis through promoting awareness and treatment of this disease, as well as raising money for research. The grant is named in honour of Dr Alan King, a pioneering West Australian respiratory physician who was instrumental in establishing Westcare.
Professor Fergal O'Gara, Human Microbiome Programme, Curtin University and Telethon Kids Institute
Research project: A Pilot Study in young CF children to determine if early intervention with Azithromycin can control Bile induced Pathogen Establishment
The Glenn Brown Memorial Grant is made possible by the Melbourne Cup Committee who has raised over $380,000 in the past 7 years. The Committee has given countless hours planning, preparing and delivering a unique experience that all goes towards raising money for cystic fibrosis research.
2017 Grant winners announced
was last modified:
April 5th, 2018
by