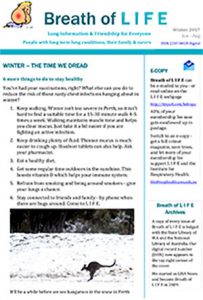 Breath of LIFE Winter 2017
Here's the latest issue of Breath of L I F E, the magazine of Lung Information & Friendship for Everyone. L I F E is the Institute for Respiratory Health's support group for people with chronic lung disease.
As well as lots of news, humour and healthy eating tips, there are articles about;
Dealing with winter if you have lung disease (or even if you don't),
Placebo effect and recovery from heart surgery,
COPD severity over time,
Antibiotics and hearing loss,
Wellbeing action plans, and
Respiratory A to Z deals with the popular letter L.
Best wishes
Jenni Ibrahim
Lung Information and Friendship for Everyone
You can also view this latest issue and past issues here.
The latest Breath of LIFE magazine
was last modified:
May 29th, 2017
by