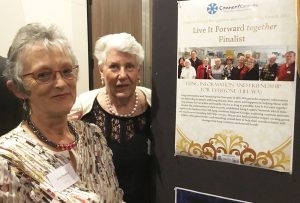 L I F E (Lung Information and Friendship for Everyone) recently was presented with a trophy for the Live it Forward together (LIFt) award for a project which demonstrated sustainable chronic conditions self-management outcomes to its members and the wider community.
The award was made at the Support Groups Recognition and Good Practice Awards dinner on Friday 9 September at the Parmelia Hilton in Perth an event hosted by ConnectGroups, the peak body for support groups in Western Australia. Jenni Ibrahim received the trophy on behalf of L I F E, the respiratory support group she leads.
As the oldest lung support group in WA, indeed, in Australia, L I F E reached out to other respiratory support groups, to develop and host the Lung Leaders Network, enabling leaders to share ideas, information, skills and resources with each other. This included information about chronic condition self-management which can benefit group members.
To kick start the Network, L I F E received a small grant from the WA Health via ConnectGroups. This project was the reason for this award. Country members have been particularly enthusiastic about the Network as they are more isolated in WA's large state and fewer local services to support people with lung conditions.
To find out more about the Network or L I F E, please contact Jenni on life@resphealth.uwa.edu.au
Live it Forward together award
was last modified:
November 22nd, 2017
by