The Melbourne Cup: a teen's perspective
Melbourne Cup day is a special day for teenager Sarah Kerr. Why? She gets to raise money for people like her who are living with cystic fibrosis.
At 11, cystic fibrosis had badly damaged Sarah's lungs. She had constant infections and regularly spent time in hospital. She could barely walk from her bed to the couch each day.
Now at 14, after a double lung transplant, Sarah is like any other teenager who loves dancing, playing floorball and hanging out with her dog Pablo.
Sarah's tips for how to enjoy Melbourne Cup day
Have fun.
Enjoy the food.
Don't miss the race!
Help support a good cause.
Sarah's tips for choosing a race-ready outfit
Sarah's tips for choosing the winning horse
Enjoy Melbourne Cup lunch with Sarah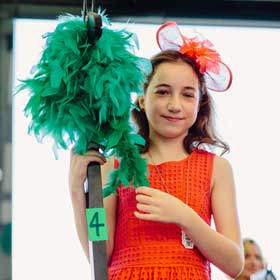 Join Sarah and the Institute for Respiratory Health at the 2018 Melbourne Cup Luncheon fundraiser on Tuesday 6 November from 10.30am.
Where: State Reception Centre, Fraser's Kings Park, Perth
Tickets Tickets are $160 each. Book now.
The event includes:
Delicious three-course meal
Bubbles on arrival, beer, wine and soft drinks
Big screens to watch the race
Entertainment by Famous Sharron, games, prizes and a silent auction
The Melbourne Cup: a teen's perspective
was last modified:
October 11th, 2018
by